A summary of Today's Geek Squeaks':
Squeak #1 – (My Streaming Radio Favorite): Can't explain it, but got up this morning (at 5 AM) and started the day off with some classic rock. My favorite online music service, which is a search engine of sorts, is RadioTuna. You can even download their desktop player app or embed their radio widget into your site (SEE BELOW);
Squeak #2 – (Arranging and Pinning Tabs In Google Chrome): Decided today to find you a short tutorial on how to arrange and pin tabs in Google Chrome. Many folks are unaware of this feature which can be quite handy. For example, the RadioTuna site that I mentioned in Squeak #1, I simply pinned the site so that I could listen to my music and would not accidentally close the site's tab (SEE BELOW);
Squeak #3 – (A Computer Cleanup Option): TCAT Shelbyville has a quick tutorial on how to take advantage of a recent Microsoft update that could give you between 2 to 6GB's of additional free space (SEE BELOW); and,
Squeak #4 – (A Neat Way To Dock A Bare SATA Drive ): An external dock that provides a convenient and direct connection from a SATA (SATA, SATA II, SATA III) HDD/SSD to your PC or Notebook (SEE BELOW)…
[ CLICK HERE TO LEAVE A COMMENT ]
Geek Squeaks', featuring a round-up of tech products, news, software, apps, wallpapers, articles, you name it;  from my favorite tech web sites… I just plain love tech!
See An Endless Stream Of Geek Squeaks' [ HERE ]
---
Online Radio Made Easy
Radio Tuna is the first real-time search engine for online radio, and we're the only radio search engine that profiles stations based on the music they play, rather than what they say they play. We've found that it's the only way to get consistently good results… GET IT HERE
---
How To Pin and Arrange Tabs In Google Chrome
You can easily rearrange the tabs at the top of your browser window.
To reorder your tabs, click a tab and drag it to different position along the top of the browser window.

To move a tab into a new window, click and drag the tab down past the address bar. You'll see a thumbnail of the tab you're moving. Similarly, to move the tab to a different window, click and drag the tab from its original window to the top of the destination window. The tab should pop in automatically.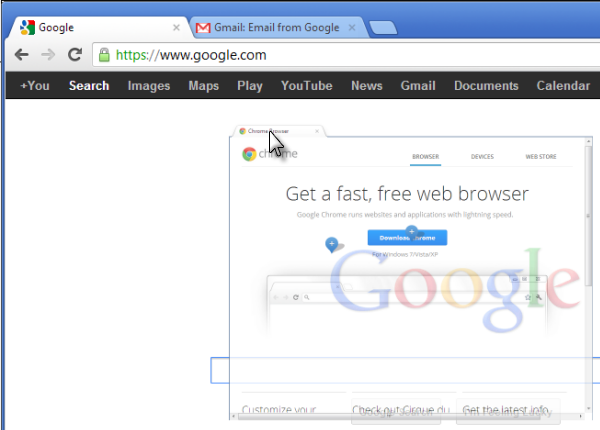 If you don't want a particular tab to be moving around, you can pin the tab to the left of your browser window. Right-click the tab and select Pin tab. You can tell that a tab is pinned if it's smaller in size and displays just the site's icon.

Besides the tips listed above, you can take advantage of many keyboard shortcuts available for windows and tabs in Google Chrome.
Above Information Courtesy of Google
---
Clean your computer and recover disk space
Want to clean your computer?  While there are utilities such as CCleaner, you may be able to reclaim disk space by using the latest Microsoft update… LEARN HOW HERE
---
Uspeed USB 3.0 & eSATA to SATA External Hard Drive Docking Station for 2.5 or 3.5in HDD, SSD
The perfect solution for easy docking and undocking of your single bare or internal HDD/SDD SATA drives. Connect to your 2.5/3.5 inch SATA drive at SuperSpeed USB 3.0 transfer rates or eSATA transfer rates (The actual transmission speed is limited by the setting of the device connected)… CHECK IT OUT HERE
---
Be Sure To Visit Bookmarks4Techs.com