If you are a victim of identity theft or know someone that is, the Federal Trade Commission has an identity theft website setup (identitytheft.gov) where you can report an event. The site provides streamlined checklists and sample letters to guide you through various recovery plans and processes based on the type of identity theft you have been exposed to. Note: I also encourage victims to contact and file a report with their State Police so that there is record of the event (at the local level) and to alert the police to a trend that may be occurring in their jurisdiction.
Identify theft can occur through breaches of your credit card account; telephone, mobile or utility accounts; debit, checking or savings accounts; employment or taxes; government benefits or IDs (such as your Social Security Number); loans or leases; AND, other accounts such as internet accounts, medical accounts, insurance accounts, investment accounts, etc…
Clues that someone stole your information are:
You see withdrawals from your bank account that you can't explain.
You don't get your bills or other mail.
Merchants refuse your checks.
Debt collectors call you about debts that aren't yours.
You find unfamiliar accounts or charges on your credit report.
Medical providers bill you for services you didn't use.
Your health plan rejects your legitimate medical claim because the records show you've reached your benefits limit.
A health plan won't cover you because your medical records show a condition you don't have.
The IRS notifies you that more than one tax return was filed in your name, or that you have income from an employer you don't work for.
You get notice that your information was compromised by a data breach at a company where you do business or have an account.
Source: Federal Trade Commission – Identity Theft Recovery Steps
---
GEEK SQUEAKS' OF THE WEEK
(17-005)
MusicWire – Portable App to search for and download music. All downloads are in the MP3 format… READ MORE
Chrome to More Aggressively Highlight Insecure Sites – Starting with Chrome 62, the browser will show the "not secure" warning when users type any data into HTTP sites… READ MORE
How to snooze your Wi-Fi in the Windows 10 Creators Update – Click on the Wi-Fi icon in your taskbar, and when the panel listing all the available Wi-Fi connections appears, click the Wi-Fi tile in the lower-left corner. Next, the panel as pictured here appears. By default, your Wi-Fi will only be restored if you activate it manually by clicking the Wi-Fi tile. If you want it to turn on automatically after a set time, click the drop-down menu under Turn Wi-Fi back on. Here you'll see options for turning it back on in an hour, four hours, or one day… READ MORE
Schedule web pages to open automatically with Open Me Later! for Chrome – Open Me Later! is a free Chrome extension which enables scheduling a page to open automatically, as the date and time you specify… READ MORE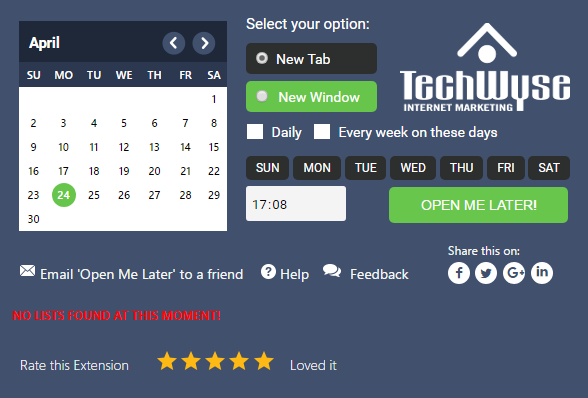 Amazon Echo – The Echo may be the closest thing we'll have to a Star Trek computer at home… READ MORE
---
Thank You For Visiting
MAKE SURE YOU ALSO VISIT
Bookmarks4Techs  –  GEGeek  –  Downloads
Tech News  –  Tech Deals  –  Archives (of all articles)